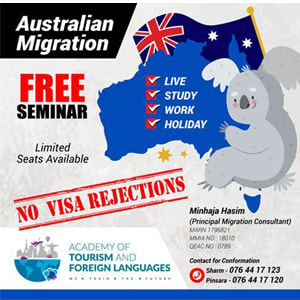 Free Seminar for Australian Migrations
Do you want to Migrate to Australia ?
Do you want to STUDY / WORK & LIVE in AUSTRALIA ?
Was your Visa rejected before ?
If the answer is YES, come for our FREE seminars and see how.
Grab this opportunity to meet our Principal consultant, who will be in Sri Lanka shortly.
Seminars will be held in our branches below –
ATFL Rajagiriya – 16th February 2020 @ 2.30 PM
Academy of Tourism and Foreign Languages, 18, Koswaththa road, Nawala, Rajagiriya.