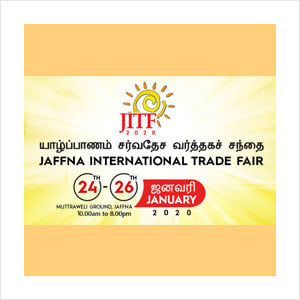 Jaffna International Trade Fair 2020 – யாழ்ப்பாணம் சர்வதேச வர்தகச் சந்தை 2020
Jaffna International Trade Fair is recognised as the largest exhibition ever held in the Northern province with over 300 stalls which even include foreign representation. This exhibition is mainly supported by the Indian High commission to bring in a considerable number of Indian companies to participate under the objective of facilitating the development of the North which has been neglected for over three decades.
The first ever Jaffna International Trade Fair was held in the year 2002 during the peace program and thereafter it started back again in 2010. Since then the exhibition has grown with proven success which has now turned on to be one of the largest exhibitions in the country. This exhibition is larger than any exhibition held in Colombo with the capacity to attract over 56,000 visitors for the three days.
As a professional exhibition organiser who has won the presidential awards for the MICE tourism and exhibitions sector for the past four years, we guarantee that JITF 2013 will be the ideal launching platform for any company in the south or internationally to capture the northern market.
Jaffna is totally a different market that has the best purchasing power to any part of the country and it is the right time for any company to concentrate in getting their brands registered in the minds of the Jaffna community.
We believe that it would be a great opportunity for your company to showcase your products to a target audience in the North. Please find attached updated floor plan and application form for your reference.