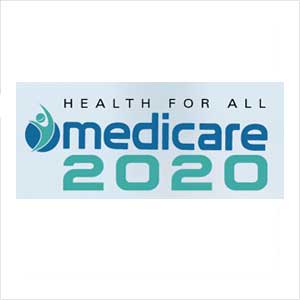 Medi Care Exhibition 2020 – தேசிய சுகாதார கண்காட்சி
இலங்கையில் நடைபெறும் மிகப்பெரிய சுகாதாரக் கண்காட்சி. இங்கே அனைவருக்குமான சுகாதார கண்காட்சியாக இது அமைந்துள்ளது. அதாவது வியாபாரம் மற்றும் பொதுமக்களுக்கான விழிப்புணர்வை ஏற்படுத்தும் ஒரு நிகழ்வாகவும் ஒருங்கிணைக்கப் பட்டுள்ளது.
Medicare – National Healthcare Exhibition is Sri Lanka's biggest healthcare exhibition covering both B2C and B2B sectors. The event is organized by the Organizing Committee of Medicare under the patronage of the Ministry of Health Sri Lanka in collaboration with specialist medical associations which look at the bigger picture to make the right healthcare awareness to the public at the right time. The event showcases the latest in modern healthcare, disease prevention, effective treatment methods, newest technology and latest services available in Sri Lankan hospitals and laboratories as well as the global medical sector.